Remote Access Solutions
It can be extremely useful to have access to your computer or your personal files from remote locations. It means you can work on any file that you need to at any time of the day without worrying about scheduling time in front of your computer in order to get your work done. There's no need to lug around your computer or storage drive; you can travel light and conduct business from just about anywhere, as long as you have an Internet connection.
---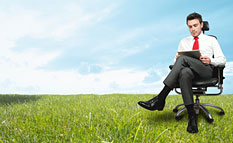 Access all your important files
and applications remotely
wherever you go
from any device
at any time of the day
---
We will set up a remote access application to do the work for you. This will allow you to have fully functional access to your computer through a web browser even on your tablet or smart phone. We make sure to choose the most simple and user-friendly, though advanced solution tailored to your specific remote access needs. No need to worry about data backup on the go – all files remain safe on your remote computer.
---
Sharing files is easy with a proper Cloud service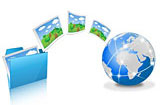 We provide solutions to give you access to your files from any computer or smart device. You can choose to make your Cloud account public to share your documents with others or private, for yourself or anyone else that you would like to have access.
---
Brilliant service. Being a complete dill when it comes to how broadband/wireless works it was a relief to have everything explained clearly. Thank you Alex.
I was impressed with Alex's efficiency and his very polite and pleasant manner.
The dreaded blue screen….Alex responded quickly and effectively to my computer troubles. He came to our home, then took the computer away so I wasn't paying for 'waiting' time. I would happily use hi…
Alex is very professional and responsible person. He was recommended to us by other people and he prove himself to be very knowledgeable and friendly person. We keep his card handy and happy to recom…
I think you supply excellent service and you are always prompt at returning calls. I would use no one else and I tell all those I know about you.
Thank you Alex for coming so promptly. My computer is running really well and I will not hesitate to call you again if anything goes wrong, Christine
Alex from GreenByte was great, he was quick with a quote for the part. He came and picked up the laptop from my work, and in a day he returned the laptop fixed, and explained the work he had done. …
I found Green Byte to be friendly, efficient and 100% effective in their service!
Alex – all good with my laptop now. Many thanks for your efficiency and the way you just got on with the job at hand. I would certainly recommend you to anyone else requiring computer help.
For me, finding Alex was to find a treasure. He arrives quickly, works with speed that comes from reai expertise so that no time is wasted and costs are minimised. Having this sort of backup,an aged p…
The computer service was very helpful as was your efficient and businesslike attitude. We very much appreciated having a knowledgeable expert come to out home to help with our computer issues.
Alex is awesome, punctual, professional, focused, trust worthy, completes the job. Fees very reasonable. I highly recommend his services. He is always my first call.
I contacted Green Byte on a Saturday afternoon and the problem was diagnosed over the phone. Alex then attended site to do all repairs that day. Very professional service!
Loved the way Alex got my mac book problem sorted quickly !! (corrupted email and hard disk) Very well priced – great service – knows what he is doing
We were very impressed with Alex. He was knowledgeable, helpful, efficient and did our work within the time-frame and price quoted. Wouldn't hesitate to call him again.
Alex was prompt in his response, professional in his approach and extremely patient in explaining necessary "how to" details clearly. A much appreciated great service!
Alex, was prompt, polite and helpful. He turned up at my home within hours of my call and my lap top was fixed and returned the next day. Brilliant! I would have no hesitation in recommending h…
I found Alex to be very helpful with dealing with my computer crash and eventual buying of new computer. Not only did he come to me to pick up computer and drop off, he was available on the phone to …
The service was great and quick, also very easy as i live close to the shop where alex works from
After some less than successful attempts to find a reliable home office computer expert, we finally found it in Green Byte. Alex answers all our online queries calls promptly and is equally prompt in…
Honest, professional, friendly, timely, competitive, knowledgeable – what more could you want from a computer repair service.
Alex has been looking after my computer issues for around two years. During this time, Alex has always made himself available, regardless of time of day, or day of the week, to help me with my querie…
I couldn't recommend Green Byte more. The service was prompt, efficient and courteous. Well done!
The service provided was exceptional – friendly, fast and of high quality. I already have and will continue to recommend Alex and Green Byte to others.
---
If you've faced a problem with your existing remote access system, we will come to your home or office and provide a solution for you. We haven't faced a problem that we can't handle, given our years of experience in computer service area. Entrust your access problems into our care, and we can have the problem fixed in no time, with no hassle to your daily schedule.