Remote Access Solutions
It can be extremely useful to have access to your computer or your personal files from remote locations. It means you can work on any file that you need to at any time of the day without worrying about scheduling time in front of your computer in order to get your work done. There's no need to lug around your computer or storage drive; you can travel light and conduct business from just about anywhere, as long as you have an Internet connection.
---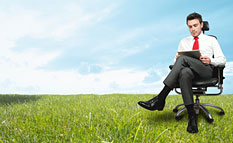 Access all your important files
and applications remotely
wherever you go
from any device
at any time of the day
---
We will set up a remote access application to do the work for you. This will allow you to have fully functional access to your computer through a web browser even on your tablet or smart phone. We make sure to choose the most simple and user-friendly, though advanced solution tailored to your specific remote access needs. No need to worry about data backup on the go – all files remain safe on your remote computer.
---
Sharing files is easy with a proper Cloud service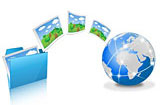 We provide solutions to give you access to your files from any computer or smart device. You can choose to make your Cloud account public to share your documents with others or private, for yourself or anyone else that you would like to have access.
---
Alex provided a quick and thorough service with a very competitive price. He recovered ALL my important data quickly. I would highly recommend Green Byte to anyone!!
I fully recommend Green Byte. It was refreshing to deal with a company who actually keeps you informed regarding the whole process from assessing the problem, quoting the price and a pickup day. I hav…
The computer service was very helpful as was your efficient and businesslike attitude. We very much appreciated having a knowledgeable expert come to out home to help with our computer issues.
Fantastic service!!! Great price, prompt, professional and polite. Alex done a great a job on some damaged data storage devices for me. I called many different places, all charged at least two time…
Alex is very professional and responsible person. He was recommended to us by other people and he prove himself to be very knowledgeable and friendly person. We keep his card handy and happy to recom…
No hesitation in recommending Green Byte to friends and colleagues, They are courteous, prompt and professional. They were very flexible with time to meet my availability.
Alex was on time and solved my computer problems and also did some work to make my computer work better. I was 100% happy with the service and would definitely recommend Alex to others need computer a…
I was very happy with your service. You picked up my laptops and returned them as per the promise timeline. Happy that you successfully re-imagined my old hard drive to new laptop hard drive apart fo…
Very prompt, efficient and reliable service
Alexander was very prompt in diagnosing the problem with my laptop and providing sound advice in regard to my options. I would use him again and recommend to others.
Many thanks for your sorting out our laptop. You have provided a very professional service and we'll certainly look you up next time we need help.
Very prompt and efficient service. Very happy.
Alex/Green Byte is a great company run with integrity, timeliness and professionalism that regularly delivers more than promised. Always a delight to work with, we can confidently recommend Green Byte…
Thank you Alex for coming so promptly. My computer is running really well and I will not hesitate to call you again if anything goes wrong, Christine
GREEN BYTE PROVIDED EXCELLENT ADVICE AND WORKMANSHIP WHEN NEEDED RECENTLY ON TWO OCCASIONS AND CAN BE THOROUGHLY RECOMMENDED FOR ITS FIRST-RATE SERVICE.
After some less than successful attempts to find a reliable home office computer expert, we finally found it in Green Byte. Alex answers all our online queries calls promptly and is equally prompt in…
Honest, professional, friendly, timely, competitive, knowledgeable – what more could you want from a computer repair service.
I found Green Byte on Google and within 45 minutes my laptop was in the professional hands of Alex. He took care of the issue very quickly and saved me time and money. His availability and professiona…
I was impressed with Alex's efficiency and his very polite and pleasant manner.
I have used Green Byte and Alex for some 2 years and I have found his quick responses to fix problems at home or on line very professional and his knowledge of all things computers amazing!!!
I found Alex to be very helpful with dealing with my computer crash and eventual buying of new computer. Not only did he come to me to pick up computer and drop off, he was available on the phone to …
Thank you Alex for your support. Your service was efficient and effective resolving my computer woes in no time.
I am extremely happy with the service. A very troublesome problem was resolved expertly with professionalism that is rare these days. Glad I have finally found a company that delivers results.
I have found Alex very helpful and trustworthy.It has been some time since I last called on his expertise. I am assuming that it is because he did such a fantastic job the last time he called in I hav…
---
If you've faced a problem with your existing remote access system, we will come to your home or office and provide a solution for you. We haven't faced a problem that we can't handle, given our years of experience in computer service area. Entrust your access problems into our care, and we can have the problem fixed in no time, with no hassle to your daily schedule.