Green Byte™ Computer Repairs customer reviews
Your opinion is important for our business, enabling us to give you exactly what you want. It helps us to improve our service and also tells us what we are doing right!
---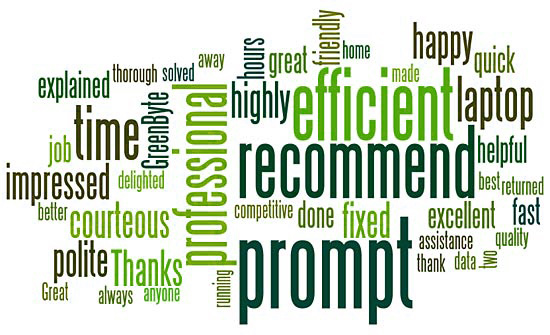 ---
We guarantee
that all reviews below are real and written by our actual clients. We never offer discounts or any other form of remuneration in lieu of a positive feedback.
---
Alexander gave us prompt, efficient service – we were very pleased with his response time, his responsiveness to our needs and the way in which he conducts his business. We ended up with a new pc in record time and he did all the legwork – nothing seemed to be a problem!!
---
I fully recommend Green Byte. It was refreshing to deal with a company who actually keeps you informed regarding the whole process from assessing the problem, quoting the price and a pickup day. I have not had any problems since the day I brought my laptop home. Excellent service guys. Thank You.
---
It is refreshing to find a true professional who cares about your business as much as you do.
Alex understood our needs and advised accordingly. He carried out his work efficiently and effectively.
I hold Alex and his Company highly recommendable.
---
Loved the way Alex got my mac book problem sorted quickly !! (corrupted email and hard disk) Very well priced – great service – knows what he is doing
---
Really efficient service. Reliable and sorted our problem.
---
I am extremely happy with the service. A very troublesome problem was resolved expertly with professionalism that is rare these days. Glad I have finally found a company that delivers results.
---
I was more than happy with your service. As a single working man being available during office hours is very very difficult for me. I pleasantly surprised and grateful that you were able to make yourself available when you did. Your rates, expertise and professionalism are great. I'll be recommending your services for sure.
---
I was very happy with your service. You picked up my laptops and returned them as per the promise timeline.
Happy that you successfully re-imagined my old hard drive to new laptop hard drive apart for one of the software programs, which deactivated during the re-image process, which could not be helped.
You even spent the time at my home, ensuring my laptop was properly configured to my wireless router and printer.
It was a pleasant experience dealing with and I will definitely recommend you to friends and family.
---