SydneyComputer Repairs & Upgrades
Don't let your computer troubles get you down. Our friendly service is here to help you with any problem you have, no matter how big or small it may be. From problems with your home email to recovering your business systems, we can handle any problem you may have.
---
Employ our experience in computer repair and upgrades to get the most out of your personal computer. We make it simple and hassle-free for you to get back to work. Here are some of the repairs and upgrades services that we offer: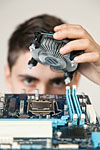 Maintenance of Windows and Mac operating systems
Upgrade of the operating memory, storage, and processor
Diagnosis and replacement of faulty hardware parts
Installation and troubleshooting of peripheral devices
Removal of viruses and malware from operating system
Setup and repair of network and Internet connection
---
If you're interested in using the latest operating system or a new piece of hardware, such as a new graphics card, we can also perform the upgrades for you. We can provide you with the best parts and software to make your computer programs run more smoothly. Our experts are always on call to help you get what you need to build a better computer system.
---
Why not trust your computer repair to someone else?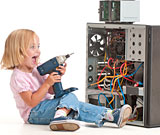 We are confident in our skills. There hasn't yet been a problem that we haven't been able to take care of. But if we can't find a solution to your problem, or our upgrades don't stick, we won't charge you for the time. We also guarantee all of our computer repairs and upgrades for a period of three months.
---
Alex has been looking after my computer issues for around two years. During this time, Alex has always made himself available, regardless of time of day, or day of the week, to help me with my querie…
The service was great and quick, also very easy as i live close to the shop where alex works from
I chose Green Byte, because their website made their costs very clear right from the start. I was delighted when I rang and was told that they would be at my house in an hour. I think Alexander got th…
Alex, was prompt, polite and helpful. He turned up at my home within hours of my call and my lap top was fixed and returned the next day. Brilliant! I would have no hesitation in recommending h…
I have used Alex from Greenbyte for the last three years in my business and private capacity and have had excellent service, no problem too big or small and never have to wait for service. I would …
Thanks Alex, the computer is running just fine now! Thank you for the great service, Tom and I have had some troubles in the past with people repairing our computers and you were just fantastic. It ma…
Service provided was above and beyond expectations. Very much a perfectionist when it comes to the work provided. I am impressed with the outcome of what was asked. Thank you.
I'm very pleased with the computer, thank you. It is the fastest computer I have ever had and is working perfectly. But things don't last for ever, so when I have the need I will call you.
I was very happy with your service. You picked up my laptops and returned them as per the promise timeline. Happy that you successfully re-imagined my old hard drive to new laptop hard drive apart fo…
Alex from GreenByte was great, he was quick with a quote for the part. He came and picked up the laptop from my work, and in a day he returned the laptop fixed, and explained the work he had done. …
I received a speedy and efficient service and I am a very happy customer. I have no hesitation in recommending Green Byte for your home / work computer needs. An excellent experience!
I couldn't recommend Green Byte more. The service was prompt, efficient and courteous. Well done!
Very prompt and efficient service. Very happy.
Thank you for fixing my laptop – it goes super fast now.
The computer service was very helpful as was your efficient and businesslike attitude. We very much appreciated having a knowledgeable expert come to out home to help with our computer issues.
I was impressed with Alex's efficiency and his very polite and pleasant manner.
I have found Alex very helpful and trustworthy.It has been some time since I last called on his expertise. I am assuming that it is because he did such a fantastic job the last time he called in I hav…
I was delighted with the prompt service from Green Byte. Alexander came to my office within 2 hours and immediately identified the computer problem. Took it away and delivered it the next day – fixed!…
Honest, professional, friendly, timely, competitive, knowledgeable – what more could you want from a computer repair service.
Alex (Green Byte) was recommended to me by a friend who works in the IT industry. Absolutely fantastic response time, my email inquiry was sent in the morning and answered that same morning!, not seve…
Fantastic service!!! Great price, prompt, professional and polite. Alex done a great a job on some damaged data storage devices for me. I called many different places, all charged at least two time…
Green Byte's service and the quality of work performed time and time again can't be faulted. Punctual, courteous and no fuss. Hand them a problem and that problem goes away. Great job guys, keep up th…
I was delighted by the the professionalism, expertise and speed with which Alex dealt with my computer problems and have no hesitation in recommending him to anyone needing help with IT issues
It is refreshing to find a true professional who cares about your business as much as you do. Alex understood our needs and advised accordingly. He carried out his work efficiently and effectively. …
---
Call us now to receive a free no-obligation quote for our services, without the worry of any hidden fees. There's no fine print, or tricks; the price we state is the price you pay. We're determined to help you with all of your computer repairs and upgrades, through our fast and affordable services. You won't find this level of professionalism anywhere else.