SydneySame day onsite computer repairs
Has your computer Crashed? Have you lost ALL Your Data? Don't know what to do and almost giving up? We offer a wide range of services including: desktop and laptop computer repairs, maintenance, upgrade, networking and training.
WE ARE HERE TO SOLVE YOUR PROBLEM: FAST!!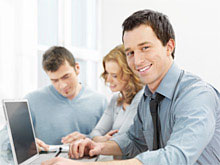 ---
Call us now to get your computer fixed TODAY
Professional service – Fast turnaround
No waiting in a repair shop1300 789 644
---
Before you choose to drop off your computer to a computer maintenance store, consider calling us instead. Not only will you not have to bring your computer in, but we can come to you the same day and have your computer repaired in no time.
---
You might even find that our onsite service is a cheaper option!

With our 15 years' experience working onsite, we don't have an expensive shop front to maintain. No lease, no insurance, so we pass these savings on to you.
---
You never have to worry about our service taking too long. With our same day service, we aim to have your problem taken care of so you can get back to writing that important business letter, or your daughter can finish her school report. We don't want to delay you any more than we need to, so you're only charged for the hours we're working on your computer.
---
Fantastic service!!! Great price, prompt, professional and polite. Alex done a great a job on some damaged data storage devices for me. I called many different places, all charged at least two time…
Thank you Alex for your support. Your service was efficient and effective resolving my computer woes in no time.
I couldn't recommend Green Byte more. The service was prompt, efficient and courteous. Well done!
I was delighted by the the professionalism, expertise and speed with which Alex dealt with my computer problems and have no hesitation in recommending him to anyone needing help with IT issues
After some less than successful attempts to find a reliable home office computer expert, we finally found it in Green Byte. Alex answers all our online queries calls promptly and is equally prompt in…
I found Green Byte to be friendly, efficient and 100% effective in their service!
Honest, professional, friendly, timely, competitive, knowledgeable – what more could you want from a computer repair service.
Greenbyte's service is excellent. Alex is trustworthy and prompt and fixed my computer problems with the minimum of fuss and expense.
Thanks for doing such a thorough job.
I found Green Byte on Google and within 45 minutes my laptop was in the professional hands of Alex. He took care of the issue very quickly and saved me time and money. His availability and professiona…
Alexander gave us prompt, efficient service – we were very pleased with his response time, his responsiveness to our needs and the way in which he conducts his business. We ended up with a new pc in …
I received a speedy and efficient service and I am a very happy customer. I have no hesitation in recommending Green Byte for your home / work computer needs. An excellent experience!
I'm very pleased with the computer, thank you. It is the fastest computer I have ever had and is working perfectly. But things don't last for ever, so when I have the need I will call you.
Alex is awesome, punctual, professional, focused, trust worthy, completes the job. Fees very reasonable. I highly recommend his services. He is always my first call.
Alex/Green Byte is a great company run with integrity, timeliness and professionalism that regularly delivers more than promised. Always a delight to work with, we can confidently recommend Green Byte…
I am not very computer savvy BUT I am aware of quality service and professionalism. Alex arrives on time, works quietly and efficiently and the computer problem is solved. He also gives good advice a…
Green Byte's service and the quality of work performed time and time again can't be faulted. Punctual, courteous and no fuss. Hand them a problem and that problem goes away. Great job guys, keep up th…
The service was very good thank you. Collection of my laptop was much appreciated, and all is working fine with the new screen. very fast turn around also appreciated !
Thanks for your prompt and professional service Alex – Will certainly recommend!
Alexander was very prompt in diagnosing the problem with my laptop and providing sound advice in regard to my options. I would use him again and recommend to others.
I was more than happy with your service. As a single working man being available during office hours is very very difficult for me. I pleasantly surprised and grateful that you were able to make yours…
It is refreshing to find a true professional who cares about your business as much as you do. Alex understood our needs and advised accordingly. He carried out his work efficiently and effectively. …
I was impressed with Alex's efficiency and his very polite and pleasant manner.
---
We work with all major IT brands