SydneySame day onsite computer repairs
Has your computer Crashed? Have you lost ALL Your Data? Don't know what to do and almost giving up? We offer a wide range of services including: desktop and laptop computer repairs, maintenance, upgrade, networking and training.
WE ARE HERE TO SOLVE YOUR PROBLEM: FAST!!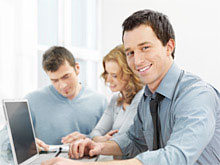 ---
Call us now to get your computer fixed TODAY
Professional service – Fast turnaround
No waiting in a repair shop1300 789 644
---
Before you choose to drop off your computer to a computer maintenance store, consider calling us instead. Not only will you not have to bring your computer in, but we can come to you the same day and have your computer repaired in no time.
---
You might even find that our onsite service is a cheaper option!
With our 15 years' experience working onsite, we don't have an expensive shop front to maintain. No lease, no insurance, so we pass these savings on to you.
---
You never have to worry about our service taking too long. With our same day service, we aim to have your problem taken care of so you can get back to writing that important business letter, or your daughter can finish her school report. We don't want to delay you any more than we need to, so you're only charged for the hours we're working on your computer.
---
I was impressed with the quick service: at a time when I needed my laptop to continue with my work, Alex had it up and running again within 24 hours. The at-home service was very handy too.
It's been great to know I have some IT assistance when we have problems, or require some assistance that can be called upon to help. The previous works have been quick response, and have resolved pr…
Fantastic service in every way! Would not go elsewhere.
Thank you Alex for your support. Your service was efficient and effective resolving my computer woes in no time.
We have been using Green Byte for 3 years now and find the company professional and courteous.All the work has been most satisfactory and I would recommend them
The service provided was exceptional – friendly, fast and of high quality. I already have and will continue to recommend Alex and Green Byte to others.
Many thanks for your sorting out our laptop. You have provided a very professional service and we'll certainly look you up next time we need help.
The dreaded blue screen….Alex responded quickly and effectively to my computer troubles. He came to our home, then took the computer away so I wasn't paying for 'waiting' time. I would happily use hi…
Service provided was above and beyond expectations. Very much a perfectionist when it comes to the work provided. I am impressed with the outcome of what was asked. Thank you.
Alexander gave us prompt, efficient service – we were very pleased with his response time, his responsiveness to our needs and the way in which he conducts his business. We ended up with a new pc in …
Alex provides prompt, affordable, high quality service that is invaluable back up for a small business.
I have used Green Byte and Alex for some 2 years and I have found his quick responses to fix problems at home or on line very professional and his knowledge of all things computers amazing!!!
Green Byte's service and the quality of work performed time and time again can't be faulted. Punctual, courteous and no fuss. Hand them a problem and that problem goes away. Great job guys, keep up th…
Alex was prompt in his response, professional in his approach and extremely patient in explaining necessary "how to" details clearly. A much appreciated great service!
Alex was on time and solved my computer problems and also did some work to make my computer work better. I was 100% happy with the service and would definitely recommend Alex to others need computer a…
GREEN BYTE PROVIDED EXCELLENT ADVICE AND WORKMANSHIP WHEN NEEDED RECENTLY ON TWO OCCASIONS AND CAN BE THOROUGHLY RECOMMENDED FOR ITS FIRST-RATE SERVICE.
I chose Green Byte, because their website made their costs very clear right from the start. I was delighted when I rang and was told that they would be at my house in an hour. I think Alexander got th…
Thank you Alex for coming so promptly. My computer is running really well and I will not hesitate to call you again if anything goes wrong, Christine
The service was great and quick, also very easy as i live close to the shop where alex works from
Very prompt, efficient and reliable service
I have used Alex from Greenbyte for the last three years in my business and private capacity and have had excellent service, no problem too big or small and never have to wait for service. I would …
Alex (Green Byte) was recommended to me by a friend who works in the IT industry. Absolutely fantastic response time, my email inquiry was sent in the morning and answered that same morning!, not seve…
Excellent service. Arrived at time promised and computer problem solved. It is much more convenient to have a technician call at the office than to send a laptop away for repair. I will be using Gr…
Brilliant service. Being a complete dill when it comes to how broadband/wireless works it was a relief to have everything explained clearly. Thank you Alex.
---
We work with all major IT brands