Green Byte™ Computer Repairs customer reviews
Thank you. We make every effort to ensure your expectations are exceeded and we sincerely appreciate you taking the time to share your personal experience with Green Byte.
---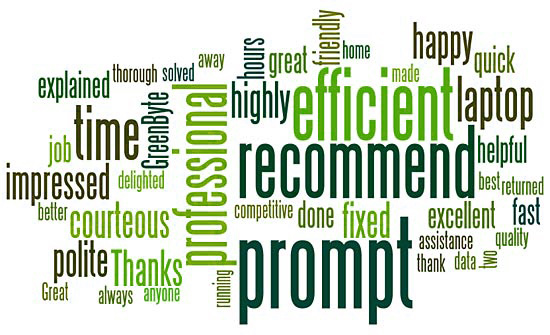 ---
We guarantee
that all reviews below are real and written by our actual clients. We never offer discounts or any other form of remuneration in lieu of a positive feedback.
---
You haven't heard from me lately because my IT is working perfectly thanks to you. However, I would like to thank you for previous assistance. Your expertise and service are second to none. I particularly like your personal in home service – very convenient. As you know I have already referred a customer to you and have no hesitation referring others.

Keep up the good work!
---
Great service,pricing & service..Highly recommend
---
Alex provides prompt, affordable, high quality service that is invaluable back up for a small business.
---
Alex was prompt in his response,
professional in his approach and extremely patient in explaining necessary "how to" details clearly. A much appreciated great service!
---
The service from Alex was fabulous. To have prompt, efficient service out of weekday business hours was very reassuring.
---
Expertise: Excellent, Accessibility: Excellent, Price: Excellent, Service: Excellent.
---
Fantastic service in every way! Would not go elsewhere.
---
Alexander was very prompt in diagnosing the problem with my laptop and providing sound advice in regard to my options. I would use him again and recommend to others.
---
The computer service was very helpful as was your efficient and businesslike attitude.
We very much appreciated having a knowledgeable expert come to out home to help with our computer issues.
---
I think you supply excellent service and you are always prompt at returning calls.
I would use no one else and I tell all those I know about you.
---