Green Byte™ Computer Repairs customer reviews
Your opinion is important for our business, enabling us to give you exactly what you want. It helps us to improve our service and also tells us what we are doing right!
---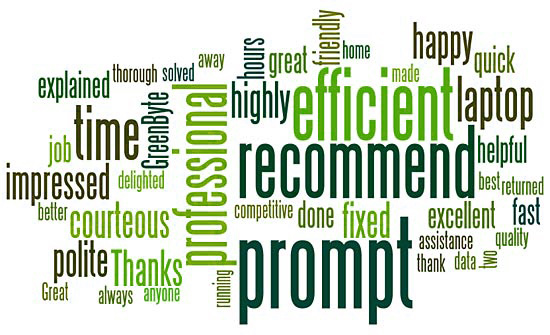 ---
We guarantee
that all reviews below are real and written by our actual clients. We never offer discounts or any other form of remuneration in lieu of a positive feedback.
---
I was delighted with the prompt service from Green Byte. Alexander came to my office within 2 hours and immediately identified the computer problem. Took it away and delivered it the next day – fixed! A massive thank you to my neighbors for recommending Green Byte and thank you Alexander.
---
I chose Green Byte, because their website made their costs very clear right from the start. I was delighted when I rang and was told that they would be at my house in an hour. I think Alexander got there even sooner. He was polite (didn't roll his eyes, when I showed how technologically illiterate I am!, helpful and efficient (solved all sorts of niggling problems). I would highly recommend this company.
---
Greenbyte's service is excellent. Alex is trustworthy and prompt and fixed my computer problems with the minimum of fuss and expense.
---
Thanks for your prompt and professional service Alex – Will certainly recommend!
---
Thanks for doing such a thorough job.
---
The repair was always 100% satisfactory and the reasons were explained, this of course improved my computer skills. Always prompt service and very punctual.
---
I received a speedy and efficient service and I am a very happy customer. I have no hesitation in recommending Green Byte for your home / work computer needs. An excellent experience!
---
Thanks Alex, the computer is running just fine now! Thank you for the great service, Tom and I have had some troubles in the past with people repairing our computers and you were just fantastic. It makes such a difference.
---
Service provided was above and beyond expectations. Very much a perfectionist when it comes to the work provided. I am impressed with the outcome of what was asked. Thank you.
---
I found Green Byte on Google and within 45 minutes my laptop was in the professional hands of Alex. He took care of the issue very quickly and saved me time and money. His availability and professionalism made me write this feedback. I highly recommend Green Byte.
---