Green Byte™ Computer Repairs customer reviews
Your opinion is important for our business, enabling us to give you exactly what you want. It helps us to improve our service and also tells us what we are doing right!
---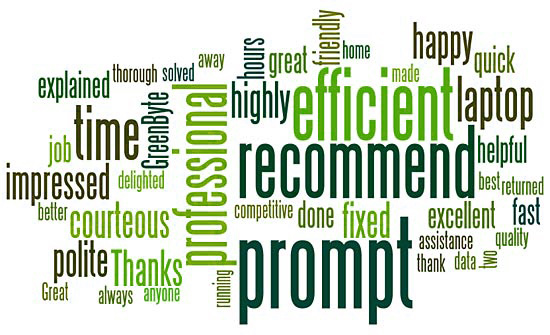 ---
We guarantee
that all reviews below are real and written by our actual clients. We never offer discounts or any other form of remuneration in lieu of a positive feedback.
---
I couldn't recommend Green Byte more. The service was prompt, efficient and courteous. Well done!
---
Thanks for the immediate service and the frankness in dealings. I am extremely happy with your service and approach. I have no doubt that you will do a very successful business and all the best!
---
Green Byte's service and the quality of work performed time and time again can't be faulted. Punctual, courteous and no fuss. Hand them a problem and that problem goes away. Great job guys, keep up the good work.
---
I was impressed with Alex's efficiency and his very polite and pleasant manner.
---
As always, excellent, fast & courteous service. It's so reassuring knowing you're there when things go wrong and that nothing is ever a problem for you.
---
Thank you for fixing my laptop – it goes super fast now.
---
No hesitation in recommending Green Byte to friends and colleagues, They are courteous, prompt and professional. They were very flexible with time to meet my availability.
---
The service provided was exceptional – friendly, fast and of high quality. I already have and will continue to recommend Alex and Green Byte to others.
---
Very prompt and efficient service. Very happy.
---
Alex provided a quick and thorough service with a very competitive price. He recovered ALL my important data quickly. I would highly recommend Green Byte to anyone!!
---