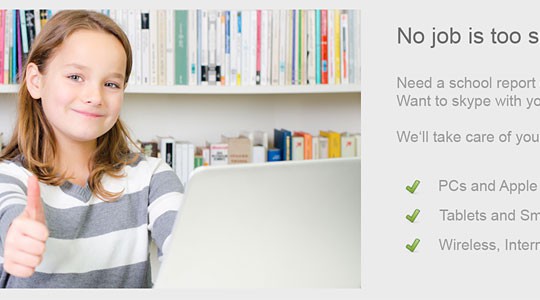 slider_03
Customer Testimonials
The computer service was very helpful as was your efficient and businesslike attitude. We very much appreciated having a knowledgeable expert come to out home to help with our computer issues.
Thank you Alex! Your service was friendly, professional & efficient, and I really appreciate that you were able to collect, fix, and return my computer to me, all in the space of 5 hours.
Thank you for fixing my laptop – it goes super fast now.
Expertise: Excellent, Accessibility: Excellent, Price: Excellent, Service: Excellent.
You haven't heard from me lately because my IT is working perfectly thanks to you. However, I would like to thank you for previous assistance. Your expertise and service are second to none. I particularly like your personal in home service – very convenient. As you know I have already referred a cus… Read more
I contacted Green Byte on a Saturday afternoon and the problem was diagnosed over the phone. Alex then attended site to do all repairs that day. Very professional service!
Daniel Chisholm
Optimal Plumbing
Fantastic service!!! Great price, prompt, professional and polite. Alex done a great a job on some damaged data storage devices for me. I called many different places, all charged at least two times what GreenByte charged not to mention they didn't offer half of what GreenByte offered, Alex provi… Read more
Alex is very professional and responsible person. He was recommended to us by other people and he prove himself to be very knowledgeable and friendly person. We keep his card handy and happy to recommended him to any one with it problems
Ella Livchits
EYE Secure Space
Alex/Green Byte is a great company run with integrity, timeliness and professionalism that regularly delivers more than promised. Always a delight to work with, we can confidently recommend Green Byte – this is a company you can trust.
Matoyla Kollaras
Skin Factors Pty Ltd
For my business, it is important for me to keep my computer running so when I first had problems I contacted Alex. He arrived without any undue delay and my computer was fixed. ALWAYS I have found Alex from Greenbyte to be courteous, understanding and very knowledgeable. Any problems here, he is ou… Read more
Frances Plunkett
Marriage Celebrant
Recent Facebook Posts
Wish I clicked Help me decide…
iPad got locked? Just relax and give it some time..