Green Byte™ Computer Repairs customer reviews
Your opinion is important for our business, enabling us to give you exactly what you want. It helps us to improve our service and also tells us what we are doing right!
---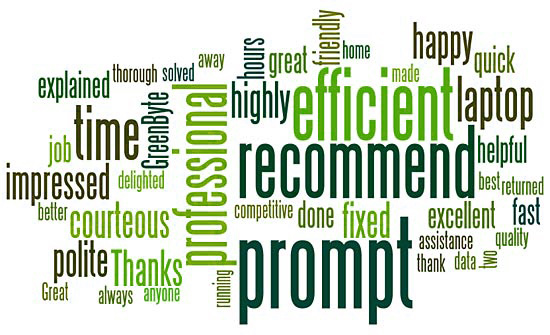 ---
We guarantee
that all reviews below are real and written by our actual clients. We never offer discounts or any other form of remuneration in lieu of a positive feedback.
---
Very reliable and trust worthy, thanks Alex
---
Alex is awesome, punctual, professional, focused, trust worthy, completes the job. Fees very reasonable. I highly recommend his services. He is always my first call.
---
I was delighted by the the professionalism, expertise and speed with which Alex dealt with my computer problems and have no hesitation in recommending him to anyone needing help with IT issues
---
Alex has been looking after my computer issues for around two years. During this time, Alex has always made himself available, regardless of time of day, or day of the week, to help me with my queries. Since Alex provided me with a "made to order" computer almost two years ago, everything has been running smoothly and I'm very, very happy with the service I've received from Alex. I would certainly recommend him to my friends and colleagues.
---
Alex (Green Byte) was recommended to me by a friend who works in the IT industry. Absolutely fantastic response time, my email inquiry was sent in the morning and answered that same morning!, not several days later. Alex understood exactly our problems and what needed to be done to fix. We didn't have to wait weeks and weeks, Alex came in a few days when the new items needed to fix our problems were delivered to his office. He was honest and upfront about everything and explained everything in everyday language, and his pricing was great (not OTT). I also loved that he is available weeknights and we didn't have to wait for the weekend or have to take day off work.

If you are looking for an IT genius but don't know who to contact or where to start to help you get setup at home with computers/software/printers/networking for your kids school/uni work and isn't going to rip you off, then ring Alex! (date 02/05/14)
---
We have been using Green Byte for 3 years now and find the company professional and courteous.All the work has been most satisfactory and I would recommend them
---
I have used Alex from Greenbyte for the last three years in my business and private capacity and have had excellent service, no problem too big or small and never have to wait for service.

I would recommend this company to anyone as have tried II companies and been very disappointed with service levels in the past.
---
I found Alex to be very helpful with dealing with my computer crash and eventual buying of new computer. Not only did he come to me to pick up computer and drop off, he was available on the phone to give advice on buying a laptop.
---
Alex/Green Byte is a great company run with integrity, timeliness and professionalism that regularly delivers more than promised. Always a delight to work with, we can confidently recommend Green Byte – this is a company you can trust.
---
The dreaded blue screen….Alex responded quickly and effectively to my computer troubles. He came to our home, then took the computer away so I wasn't paying for 'waiting' time. I would happily use his services again – but here's hoping I don't need to!
Integrance Consulting Pty Ltd
---