Green Byte™ Computer Repairs customer reviews
Your opinion is important for our business, enabling us to give you exactly what you want. It helps us to improve our service and also tells us what we are doing right!
---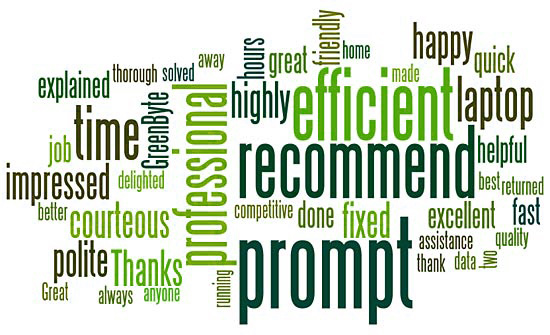 ---
We guarantee
that all reviews below are real and written by our actual clients. We never offer discounts or any other form of remuneration in lieu of a positive feedback.
---
Alex is awesome quick, doesnt mess around and good prices
---
I have used Green Byte and Alex for some 2 years and I have found his quick responses to fix problems at home or on line very professional and his knowledge of all things computers amazing!!!
Kaleidoscope Constructions
---
It's been great to know I have some IT assistance when we have problems, or require some assistance that can be called upon to help. The previous works have been quick response, and have resolved problems efficiently. Thanks again – I'll call when we need more assistance.
---
Alex – all good with my laptop now. Many thanks for your efficiency and the way you just got on with the job at hand. I would certainly recommend you to anyone else requiring computer help.
---
I appreciated your responsiveness to the issue and the quick implementation of a solution.
---
Alex, I cannot say enough good things about you. It would be easier to type the bad things, and in that case I would not be typing anything.
You are professional at all times, you always fix the problems. I was grateful for your help and advice when I was in North Qld and having IT drama's. It is great you come out to your clients, we are all leading such busy lifestyles these days, so great you are able to accommodate those needs. I have no hesitation in recommending you to my friends and colleagues.
---
I'm very pleased with the computer, thank you. It is the fastest computer I have ever had and is working perfectly.
But things don't last for ever, so when I have the need I will call you.
---
I have enjoyed the service you provide and will definitely use you again in the future when required.
---
For my business, it is important for me to keep my computer running so when I first had problems I contacted Alex. He arrived without any undue delay and my computer was fixed. ALWAYS I have found Alex from Greenbyte to be courteous, understanding and very knowledgeable. Any problems here, he is our first point of call. I would recommend this company to anyone.
---
I have found Alex very helpful and trustworthy.It has been some time since I last called on his expertise. I am assuming that it is because he did such a fantastic job the last time he called in I have not had any issues for which I needed his help.
I shall be calling on him in a couple of months or so to 'tidy' things up. I appreciate his knowledge, skill and manner of dealing with me, an older client.
---