Green Byte™ Computer Repairs customer reviews
Your opinion is important for our business, enabling us to give you exactly what you want. It helps us to improve our service and also tells us what we are doing right!
---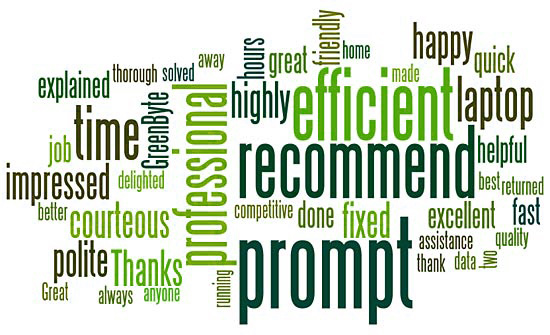 ---
We guarantee
that all reviews below are real and written by our actual clients. We never offer discounts or any other form of remuneration in lieu of a positive feedback.
---
Great customer service, and the problem solving to fix my problem for the best price, giving options to suit our budget , awesome keep up the good work and stay honest we all need someone we can trust in this industry

Regards Peter
---
Excellent service. Arrived at time promised and computer problem solved. It is much more convenient to have a technician call at the office than to send a laptop away for repair. I will be using GreenByte in the future.
Marist Brothers Province of Australia
---
Thank you Alex! Your service was friendly, professional & efficient, and I really appreciate that you were able to collect, fix, and return my computer to me, all in the space of 5 hours.
---
Many thanks for your sorting out our laptop. You have provided a very professional service and we'll certainly look you up next time we need help.
---
We were very impressed with Alex. He was knowledgeable, helpful, efficient and did our work within the time-frame and price quoted. Wouldn't hesitate to call him again.
---
I contacted Green Byte on a Saturday afternoon and the problem was diagnosed over the phone. Alex then attended site to do all repairs that day.
Very professional service!
---
Very prompt, efficient and reliable service
Xenexus Pharmaceuticals Pty. Ltd.
---
Alex from GreenByte was great, he was quick with a quote for the part. He came and picked up the laptop from my work, and in a day he returned the laptop fixed, and explained the work he had done.

Thank you for your Professional, Prompt and cost efficient service
---
Alex was on time and solved my computer problems and also did some work to make my computer work better. I was 100% happy with the service and would definitely recommend Alex to others need computer assistance.
---
Alex, was prompt, polite and helpful.

He turned up at my home within hours of my call and my lap top was fixed and returned the next day. Brilliant!

I would have no hesitation in recommending him to my friends.
---