Green Byte™ Computer Repairs customer reviews
Your opinion is important for our business, enabling us to give you exactly what you want. It helps us to improve our service and also tells us what we are doing right!
---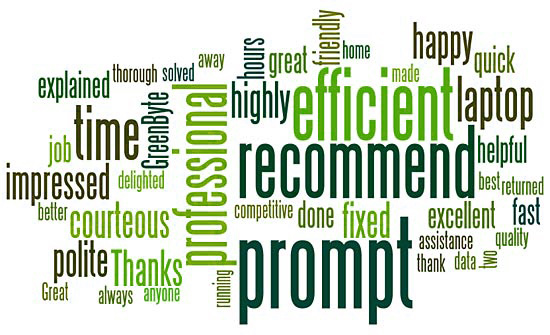 ---
We guarantee
that all reviews below are real and written by our actual clients. We never offer discounts or any other form of remuneration in lieu of a positive feedback.
---
For me, finding Alex was to find a treasure. He arrives quickly, works with speed that comes from reai expertise so that no time is wasted and costs are minimised. Having this sort of backup,an aged person like me can develop more computer skills. I vlue this situation.
---
Alex is very professional and responsible person. He was recommended to us by other people and he prove himself to be very knowledgeable and friendly person. We keep his card handy and happy to recommended him to any one with it problems
---
Thank you Alex for coming so promptly. My computer is running really well and I will not hesitate to call you again if anything goes wrong, Christine
Neutral Bay Iyengar Yoga Centre
---
I have had excellent service from Green Byte – although I am only a very small business my queries are also attended to quickly. Alex never makes me feel that any job is too small or not worth is while. He provides an excellent service at very reasonable rates and I would recommend him highly.
---
After some less than successful attempts to find a reliable home office computer expert, we finally found it in Green Byte. Alex answers all our online queries calls promptly and is equally prompt in coming to the office when we have a problem.
Industrial Health Matters
---
I am not very computer savvy BUT I am aware of quality service and professionalism. Alex arrives on time, works quietly and efficiently and the computer problem is solved. He also gives good advice and is reasonably priced.. I have no hesitation in recommending Green Byte,
---
Thank you Alex for your support. Your service was efficient and effective resolving my computer woes in no time.
---
GREEN BYTE PROVIDED EXCELLENT ADVICE AND WORKMANSHIP WHEN NEEDED RECENTLY ON TWO OCCASIONS AND CAN BE THOROUGHLY RECOMMENDED FOR ITS FIRST-RATE SERVICE.
---
The service was great and quick, also very easy as i live close to the shop where alex works from
---
The service was very good thank you. Collection of my laptop was much appreciated, and all is working fine with the new screen.
very fast turn around also appreciated !
---